Showing up for an interview unprepared is possibly the worst mistake you can make when you want to take your career to the next level. Yes, an interview can be a nerve-wracking experience, but you can ace your next one with ample preparation and self-confidence.
The first step is to research your dream company, what they stand for, their company goals and values, and the qualities that make you their ideal candidate. The upside to extensive research is that it also allows you to make a clear decision. When you want a successful career, you must be happy with your organization and the management team.
Next, prepare your answers well in advance. Interviewers typically ask a set of questions that help them learn about who you are. They already know about your educational background and work experience through your resume.
Top five interview questions.
Why do you want to work at this company?
Why should we hire you?
What are your greatest strengths?
Where do you see yourself in five years?
Tell me about your previous job experience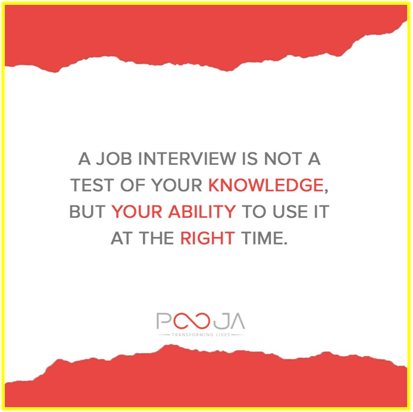 Here is a link to a Harvard Business School Online's Business Insights Blog to help you answer interview questions with ease- https://online.hbs.edu/blog/post/common-interview-questions-and-answers
We spoke to keynote speaker and life coach Pooja Bagri about how to show up for your next interview. Pooja has trained with Tony Robbins, Brendon Buchard, Jim Rohn, Dale Carnegie, Brian Tracy, and Simon Sinek. She has helped over 500 people make massive breakthroughs in their personal life.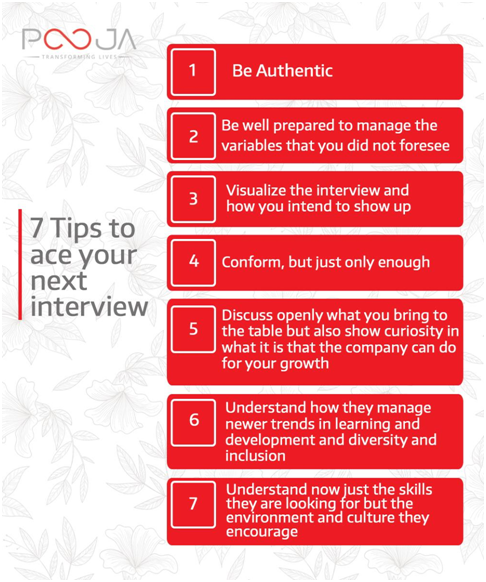 About Pooja Bagri
Pooja helps her clients through a process of self-discovery and shows them their "how." Once this 'How' is unlocked, the transformation is unparalleled, and the person is equipped for life on how to create the same success model in different areas of their life or apply this how-to to various challenges they face.
Based out of Singapore, Pooja takes her sessions both online and in person. She has clients across Asia and the United States.